Looking for the best dentist for kids near Millbrae, CA? Trust the office with the same upscale dentistry that keeps your smile healthy! At James Warren Dental, our staff is specially trained to provide comprehensive dental care to all members of the family, aged one and older!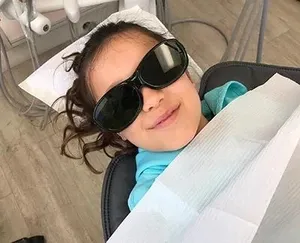 Kids Dentist Millbrae, CA
Our Millbrae dental office is designed with plenty of comforting, kid-friendly amenities to help little ones stay calm and entertained throughout the duration of their appointment.
From the waiting room to the dentist's chair, we'll make your child feel right at home. Each exam room features amenities to make the experience as comforting as possible.


Your Child's First Dental Visit
During your child's first dental visit, Dr. Warren and her kid-friendly staff will do everything they can to make our youngest patients feel right at home. Our team will take plenty of comfortable x-rays, images, and other photos to get a clear idea of your child's current oral health.
We emphasize oral health education by providing easy-to-understand explanations designed to help kids keep their teeth and gums healthy in between appointments.


Checkups and Preventive Care
Dr. Warren follows oral health guidelines established by the American Academy of Pediatric Dentists (AAPD), advising children to be seen for checkups every 6 months. If our team discovers multiple cavities or early orthodontic concerns, we may suggest more frequent appointments.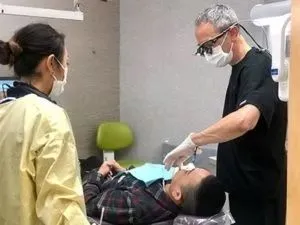 Tooth-Colored Fillings
At James Warren Dental, our total-health dentistry philosophy is anchored in prevention, but sometimes, small cavities can still occur. To treat them, we use safe, effective tooth-colored dental fillings.


Dental Crowns For Children
If your child suffers an oral injury, or if our team discovers decay, we may recommend a dental crown to help save the tooth. We always offer same-day dental crowns that are made right here in our office. This special technology eliminates the need for temporary crowns and follow-up appointments!


Tooth Extractions For Kids
We may recommend a gentle tooth extraction to children suffering from decay or those who are experiencing crowding. Tooth extractions can ensure your child's total body health as they continue to grow.
Is your teen experiencing pain in the back of their mouth? James Warren Dental offers preventive wisdom tooth extractions and even removes impacted wisdom teeth! Impacted wisdom teeth occur when the teeth are prevented from fully emerging, and have the potential to cause damage to the jaw bone and to surrounding teeth. For wisdom teeth that become partial-bony impacted, or partially stuck in the jaw, we are prepared to extract the teeth with a gentle procedure to restore your child's comfort and oral health.
Dr. Warren will carefully identify the source of your child's tooth pain and the best options for their treatment — including laughing gas for those with special healthcare needs.


Ready To Schedule Your Child's Dental Appointment?
Dr. Warren is a kids dentist you can trust! Call our Millbrae, CA office at (650) 697-2073 to schedule your child's dental next appointment.